Improved Metalforming Techniques Lead to Innovative Off-Road Products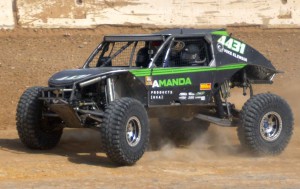 Metalforming that delights in form and function is every fabricator's aim. Amanda Manufacturing, a heritage company based in Logan, Ohio, combined new ideas and proven functional capabilities, and crafted an elegant solution to a troublesome issue of safety and inefficiency. In the process, they created Amanda Products, a new brand of off-road aftermarket parts; pioneered a welding technique; developed a SEMA Award-winning part; and strengthened their hometown manufacturing footprint.
Amanda Bent Bolt was purchased by Deshler Group, a family of affiliates united to provide services from manufacturing and assembly to packaging and transport, in 1978. Renamed Amanda Manufacturing, the company was already a successful u-bolt and rod fabricator firmly established in Logan.
With rich natural resources and a lengthy manufacturing tradition, Logan offers fertile ground for product innovation. Add to this a strong labor force with generations of experience and hometown pride, and you have a company that wants not just to survive, but to flourish. A growing original equipment supplier, Amanda soon produced more than 300 superior quality metalformed parts, including hood-prop rods, hood/door/seat strikers, various styles of tow hooks, muffler hangers, fender braces and manual shift assemblies.
If you've ever gone off-roading, you already know the biggest problem that arises: getting stuck. While it's fun to brave piles of rocks, sinking sands and debris-choked mud, even the toughest vehicles don't always make it out. While good for videos and memories, it is a problem that must be solved. Ropes and chains are used, though recovery straps, even winches do a better job. Recovery straps (also referred to, somewhat erroneously, as tow straps) are the most common solution.
Once you have the strap, you need a place to secure it. D-rings, tow hooks, even doors or bumpers are commonly used. Some of these work better than others. Straps can then fail, even break, during the extrication process. Sometimes the knots draw so tight that they must be cut off afterwards.
A few cause epic damage to vehicles, ripping off bumpers, breaking windows, even causing injury to drivers and passengers. A quick online search for tow strap disasters will bring up choppy videos of woe. Sadly, tow strap disasters have even ended up in loss of life. Clearly, both equipment survival and operator safety are absolute necessities for any offroading design.
The solution, perfected by engineers at Amanda Manufacturing, was surprisingly simple: a durable, multi-functional, easy-to-use tow hook, now known as the Amanda Products SpeedHook™. Engineers combined the strength of a closed loop hook and the accessibility of an open hook into a unified, expertly welded assembly. They designed the part to be easily attached or welded to trucks and off-road vehicles. It was also meant to withstand extreme force, in virtually any towing situation.
Using the SpeedHook™, off-road enthusiasts were able to preserve their recovery straps for future weekends of mudding and rockcrawling. Now a driver could quickly slip her recovery strap through the eye and over the hook of the SpeedHook™, a move that took only a few seconds and didn't require knot-tying skills. Shackles were no longer necessary and the impossible knots formed during towing became a thing of the past. Instead of having to cut off a tow strap, a driver could save it for later use, a substantial improvement in efficiency and cost.
As the SpeedHook™ tow hook took shape, Amanda engineers knew they had something special, a product that satisfied a widespread need and introduced the company's craftsmanship to a larger audience. This is how the Amanda Products brand, the consumer-facing division of Amanda Manufacturing, was born.
Debuted at The SEMA Show, along with the SpeedHook™, the brand embraced the offroading lifestyle, attending King of the Hammers, Easter Jeep Safari and Jeep Beach. Amanda Products became the title sponsor for an offroad racing team on the rise, ColeCar Motorsports. The SpeedHook™, installed on the race vehicles, has even been used for successful extrication during several offroad races.
The Amanda Products SpeedHook™ is manufactured from high-strength steel, employing four separate steel alloys for its component parts. The open hook is made from high carbon steel and is heat-treated for strength. Made from medium carbon steel, the closed loop does not require heat treatment owing to its welding on both sides. The stamping, or bracket, is made from high-strength, low alloy steel.
Each part bears a different strength requirement, but all are prepared, even before welding, for the extreme action required by the towing activity inherent to off-road vehicle recovery situations.
The high-strength American-made steel arrives in coil stock. The steel rod is brought in, drawn to size, and bent. These functions occur in a 150-ton press. Afterwards, the piece is welded to the entire assembly. Attached by mig weld, the closed loop is 100% robotic weld, exclusively performed in house at Amanda Manufacturing.
The closed loop is particularly suited to heavy-duty towing activity and is more than able to withstand extreme force. The tested towing capacity of the closed loop is rated to withstand more than 60,000 pounds.
Made from high-strength, high-carbon steel wire, the SpeedHook's™ open hook is drawn to size, bent, coined and pierced. It is heat treated for strength, which is essential to guaranteeing extreme towing capacity.
Use of the open hook, both on its own and as part of the assembly, is what makes the SpeedHook™ unique. As its tested towing capacity is more than 10,000 pounds, it is able to handle recovery operations for virtually any off-road vehicle. The quality and amount of mig welds, at 400% of necessary strength, fosters sustained use without equipment failure. When used correctly, it also promotes user safety, avoiding terminal failure and recovery strap breakage or loss, as well as preventing serious injuries to operators and bystanders.
Both formed from steel, the receiver and pin are the essential final components of the SpeedHook™ assembly. The receiver is a 2×2-inch, long, hollow, square part that enables the SpeedHook™ to easily attach to any vehicle with a 2" receiver. This is its most common use in the off-roading community, although some hobbyists and fabrication shops prefer to weld the SpeedHook™ onto their vehicles. This is why Amanda offers it in multiple versions and finishes.
Once the SpeedHook™ is formed, welded and tested, it is finished with electrical discharge coating (e-coat) or chrome. Some are left unfinished to withstand operator welding and to be available for customization. All are available in front hook or receiver mount versions.
Though the SpeedHook™ was designed for efficiency and convenience, durability was also a primary goal. Amanda Manufacturing engineers knew they could easily produce a polished assembly. The company's expert metalforming capacity was a given. Further, the steel was composed of extraordinarily robust, high-carbon alloys, heat-treated for further strength. The design was solid and solved a nagging problem for the offroading community. A final, yet most important, step for durability remained: expert welding.
An essential aspect of Amanda's manufacturing success had always been the highly skilled welding abilities of its workforce. Amanda's parts were known both for good design and extended durability, primary reasons they've remained a valued OEM for leading automakers.
A hallmark of Amanda's welding capacity has long been not only to meet required strength targets but also to exceed them, using engineering, welding and the best use of material to increase product strength and reduce part failure. Adhering to a recommended number of welds is only the starting point.
For the SpeedHook™, the built-in design target was to perform 400% above the welding requirement. This was particularly important when welding the closed loop to the stamping. If 1 inch of weld was deemed sufficient by FEA analysis and tensile testing, Amanda would over-design and use 4 inches.
This decision ensured both safety and strength. To company leadership, the additional cost was absolutely worthwhile. Enhanced performance and customer safety had always been core values at Amanda; this was the only path worth following. Engineers and executives set the standard high and meeting this standard was required of all.
The design was revolutionary, but so was the process. A normal mig welding process would involve one robot, with a first torch doing a root pass and a second torch following, filling in the weld. However, the Amanda Products SpeedHook™ changed this.
The SpeedHook™ was the first part produced in an American factory using two simultaneously operating welding torches, on a dual-headed robot, employing two independent power supplies and performing two independent welds at the same time. Although this method can now be found in other manufacturing facilities, at the time, Amanda was the first factory to use it.
Amanda welders took on this new challenge, effectively learning to operate the dual-headed robotic welder to produce the SpeedHook™ and other tow hooks. Their successful advancement in technique soon caught the eye of Panasonic, the welding machine's creator. A Panasonic engineer even came from Japan to learn how Amanda workers had retrofitted the welder to perform these dual, independent welding functions.
Amanda was the first maker to incorporate the closed and open loop, two-hook design. Along with Panasonic engineers, Amanda jointly pioneered a highly effective method to perfect this assembly.
As the SpeedHook™ hit the market, the offroad community immediately recognized its ingenious design. When it debuted at The SEMA Show in Las Vegas in 2013, the world's premiere aftermarket parts convention, it generated considerable buzz among the buyers and automakers attending the show. In fact, it received a SEMA Global Media Award, a highly sought-after recognition in the specialty equipment manufacturing community.
It wasn't just the SpeedHook's™ appearance that garnered acclaim. Unlike a casting that can weaken at a yield point, fracture and break, in what as known as a terminal failure, this product would survive whatever tow, or extreme abuse, it might encounter. It would not break or bust apart.
The SpeedHook™ was designed to withstand more than 10,000 lbs (open loop) to 60,000 pounds (closed loop) of pressure. If it encountered an even greater load, it would do no more than bend or tweak. The safety of this inherent strength, for operator and bystander, cannot be underestimated.
To promote quality and operator safety, the SpeedHook™ is repeatedly tested in Amanda's in-house quality lab. Every batch must face the company's tensile testing machine, which applies up to 120,000 pounds of force to an object. Destructive testing for failure is an industry standard, of course. Yet, the SpeedHook's™ high-strength steel and multiple welds have proven themselves more than a match.
The SpeedHook's first line targeted full-size and heavy duty trucks and off-road vehicles. Final testing is ongoing for Jeep-modified versions as well as for smaller vehicles, including ATVs and UTVs. Further products are in development, including doors, mirrors and Jeep bumpers that incorporate the SpeedHook design.
New products aren't the only result of this brand launch. Amanda Manufacturing broke ground on a major expansion last fall, growth that will result in much-needed extra capacity and new skilled manufacturing jobs. In U.S. manufacturing, particularly in the Midwest, growth is a big deal, to employees and to the local economy. Careful craftsmanship, and an accounting for every step from steel strength to weld quality, remains essential. This is the American manufacturing story.
Interested In Finding Out More?