More than 50 Detroit Public School Community District (DPSCD) high school students engaged with modern manufacturing during the interactive tours held Friday, October 6, at two facilities owned and operated by the Deshler Group.
Deshler Group is a Michigan-based comprehensive solutions provider, made up of seven sister brands that offer a range of services including manufacturing, assembly, distribution, warehousing and transport.
The two-hour experiential programming, created by Deshler Group employees, walked students through their state-of-the-art facilities to bring modern-day manufacturing processes to life. The event was created to inspire DPSCD high schoolers – from Davis Aerospace Technical High School at Golightly and from SER Metro-Detroit – through hands-on activities and presentations.
As part of the Deshler Group's long-standing commitment to youth mentoring and STEM education, the global family of companies hosted and sponsored this event as part of the nationwide observance of Manufacturing Day 2017, in collaboration with the Wayne County Economic Development Corporation (WCEDC) and the Workforce Intelligence Network of Southeastern Michigan (WIN).
Students took part in interactive programming at two of Deshler Group's facilities in Livonia: Amanda Manufacturing Michigan, which specializes in automotive-focused metal-stamping applications; and Deshler Group's primary facility, which houses operations for sister companies GS3 Global (supply chain management, assembly, engineering) Feblo International (warehousing) Global Transportation Management (logistics) and Amanda Products (aftermarket automotive products).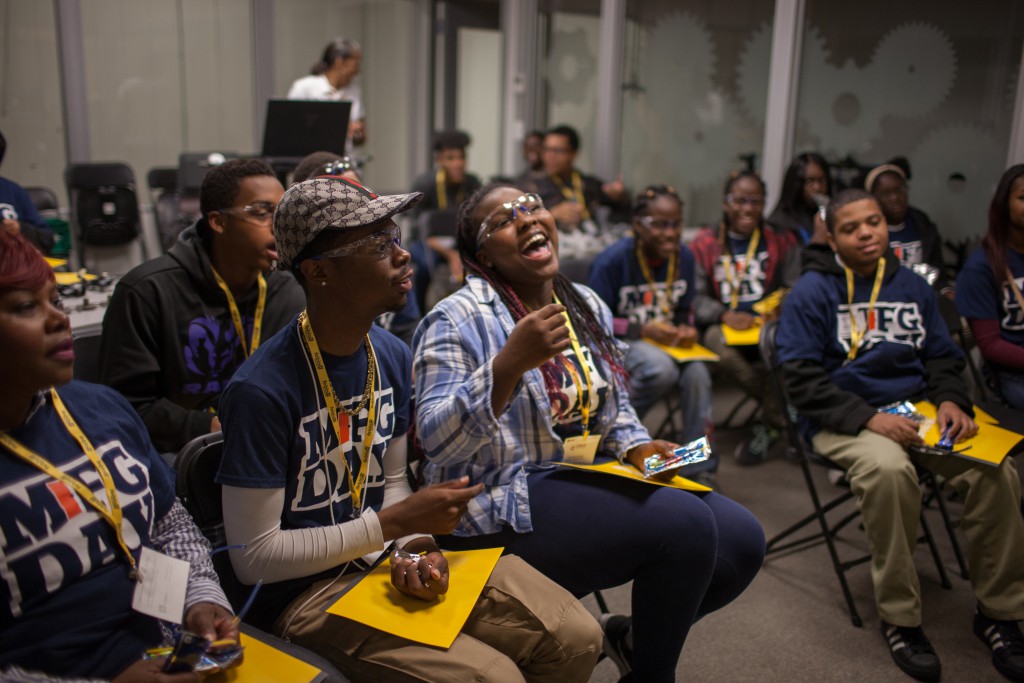 WCEDC's and WIN's program began in 2015 and has steadily grown to include over 30 Wayne County-based companies and more than 2,000 area students to promote the many in-demand skills and manufacturing careers in Metro Detroit. WCEDC and WIN are focused on providing avenues for students to explore and understand what kinds of careers they can realize in the future, specifically in the manufacturing industry.
Manufacturing Day is a national, annual celebration of modern manufacturing, to inspire and educate students, businesses, media, educators, and politicians about career opportunities in manufacturing. The day provides students a positive understanding of the manufacturing industry, with the long-term goal of addressing the skilled labor shortages American manufacturers face.