OFF-ROAD BY DESIGN
After decades manufacturing B2B solutions for the auto industry, the Deshler Group pursues the consumer-facing off-road aftermarket with passion, prototypes and finished products.
It's not often that suggestions are heard – let alone acted upon – in big organizations. In the case of the Deshler Group, one division's idea for improving an off-road essential would lead to a new customer-facing division and a bold new line of aftermarket products for Jeep® Wrangler.
Developing those products from concept and design to prototype required a willingness to take risks and collaborate as equals across the companies. Transitioning from prototypes to production in less than a year required exceptional agility and determination.
This is Deshler's story
Deshler created a new, consumer-facing brand that would be charged with developing innovative designs in the off-road aftermarket space. 'Amanda Products' was sent on a mission that would test their ability to conceive, design, engineer and deliver new products.
Their team traveled from coast to coast, attending events, gathering reactions and having conversations with the true off-road audience. That meant meeting and mingling with everyone from those who race and build their own buggies to recreational drivers who hit the trails for fun and freedom.
Sponsorship of Ultra4 race driver Mike Klensin at Dirt Riot and Ultra-4 race series earned Amanda Products a place within the hard-core race community. They took their 'Recovery Station' to Ultra4 King of the Hammers in the Mojave Desert. It's 'The toughest one-day off-road race on the planet.'
Family friendly national events included Cantina for the Con. This annual fundraising event supports respectful use and heartfelt appreciation of the legendary Rubicon Trail.
Jeep Beach at Daytona International Speedway is "An annual event of Jeep enthusiasts celebrating a passion for off-road vehicles."
Amanda Products confirmed that the buggy building, rock crawling, Ultra4 race crowd is hard core and capable; they value function over appearance. The team also saw first-hand that Jeep owners love to wrench, but they want integrated products that improve functionality and enhance appearance.
The most passionate feedback came from Wrangler aficionados at Jeep Beach. They suggested they would rather buy "a whole new bumper and the recovery products should come with it."
After several months of listening to people at events around the country, focus expanded from recovery products to aftermarket. Enthusiasts were emphatic that bumpers and doors were the two products they intended to replace or customize; new doors were a priority. Clearly, they were a category that deserved attention. Amanda Products' team looked forward to innovating the space.
After meeting with all these people, Amanda Products, Amanda Manufacturing and Deshler regrouped to review the review the results. Risk and opportunity joined in the notion of bringing a whole new design aesthetic into the off-road space; passion for the effort ran deep.
In June Deshler gathered strategic talent together in a Detroit-area conference room for two full days of brainstorming. Management executives partnered with M3D Experiences, a bi-coastal experience design firm, to provide market research and craft/lead the ideation process.
An automotive approach was considered too competitive; better to take a more collaborative product approach. Engineers and designers would work together. The corporate org chart was flattened out. There would be no executives barking orders, no engineers telling designers 'No way we can do that.'
Research on sales data and photos of competitive products were presented. Extreme vehicles were displayed for comparison/inspiration. Armed with facts and feedback, they were anxious to develop ideas. Finally they were told "Have at it! No limitations – be crazy, be creative. Let's go around the whole vehicle and make it ours – not just the front and back. If you can design something that can be made through these means and materials, more power to you." The goal was to develop the most innovative concepts.
The attendees were split into two equal teams consisting of manufacturing engineers, transportation designers, and Deshler executives. Each team brainstormed a specific product type for one hour; during that time they were asked to generate as many ideas as possible.
No ideas were discarded and none were judged at birth. This freedom to say anything was a key ingredient in the process. After every product ideation session, each team presented their ideas to the other – often generating surprising results.
There were plenty of tables and chairs but nobody sat. All hands were on deck, with Sharpies in hand; ideas were written on dozens of sticky notes and pressed onto big boards on the wall.
The teams looked at the front bumpers in the marketplace. Some were brutish due to constrained fabrication and manufacturing options. Others attempted to appeal to a more conservative audience by opting for a factory look.
Except for the extreme vehicles, there was little variety. One designer remarked that "If you covered the product logo, you wouldn't know who made it." In some cases, style was limited by function as D-rings and winches cluttered bumpers.
Designers felt the potential for improvement was limitless. The teams were told the bumper had to be "the coolest bumper you've ever seen. It has to be useful and durable and the quality has to be there; OE level quality."
In their travels, manufacturers told Amanda Products that the majority of winch related issues are due to the elements, not user error; so the teams worked toward a solution for that problem. In their designs, style honored function; SpeedHook™ was built in and winches were concealed and protected.
Competitive offerings ranged from skeletal to webbed military. One designer remarked they were "too light – flimsy as screen doors." Amanda Products' version should not look like everyone else; they should feel worthy of the toughest build imaginable. The teams were told interaction with the elements was the priority, with usability as the underlying issue throughout. They were anxious to approach doors from a different point of view.
They returned with innovative designs – substantial doors that offer roominess and a sense of security. They open up out of the plane of the body side, allowing space for future development of internal and external features and accessories.
Deshler appreciates that style is one category of design where everything lives. Designs were spread out on the big conference table and everyone was asked to decide "what lives – what dies – what do we want to keep talking about?" The designs that 'lived' honored the Jeep brand while enhancing functionality and options.
Agreement was unanimous. All agreed that their solutions were unique – there was nothing like them. They had developed new products and that was an incredible feat. Almost as incredible as getting the prototypes ready in time for SEMA 2014.
FROM DRAWINGS TO 3D RENDERINGS
The teams chose to move forward with a 'looks like' prototype vs. a 'works like.' If they were going to go from pictures to parts, the team would need artisans and fabricators; as if they were making a piece of sculpture.
M3D brought in Tom Nemeth, Digital Artist and 3D Modeler – one of seven CG artists to receive an Emmy for "Outstanding Main Title Design" for Game of Thrones. Nemeth was positioned solidly between the approved concept drawings and the hard reality of the team that was working on the vehicle.
Amanda Products' criteria were that the bumper be producible and that it be a bolt-on kit for the average user. Nemeth would need information on fit and available space. The Amanda Manufacturing team chose to go 'old school' by physically disassembling the vehicle; the parts were painstakingly measured by hand.
Nemeth translated the concept sketches into 3D models while the Amanda Manufacturing team built the main structures of the doors and bumpers. As they fabricated, they sent Nemeth the measurements he needed to modify the models. Once modifications were complete, they were submitted for live reviews.
The teams worked together through mornings, afternoons, evenings and weekends; from Deshler's executives in the Detroit area and the Amanda Manufacturing team in Ohio to M3D Experiences in San Francisco and Nemeth's 3D modeling studio in L.A.
M3D explained, "At this point in the process we were measuring and sending every day. We made adjustments on the fly, on GoToMeeting calls while looking at Tom's screen. It allowed us to meet, share photos and review face to face. In some cases we made modifications live; one adjustment could – and usually did – affect many elements."
FROM 3D RENDERINGS TO 3D PRINTING
Once the 3D models were complete, Amanda Products took them to a 3D printing shop that offers rapid prototyping. Mock-ups were built from RapidNylon® – a high end blend of glass filled nylon powder that creates parts with a satin-like finish comparable to production thermoplastics.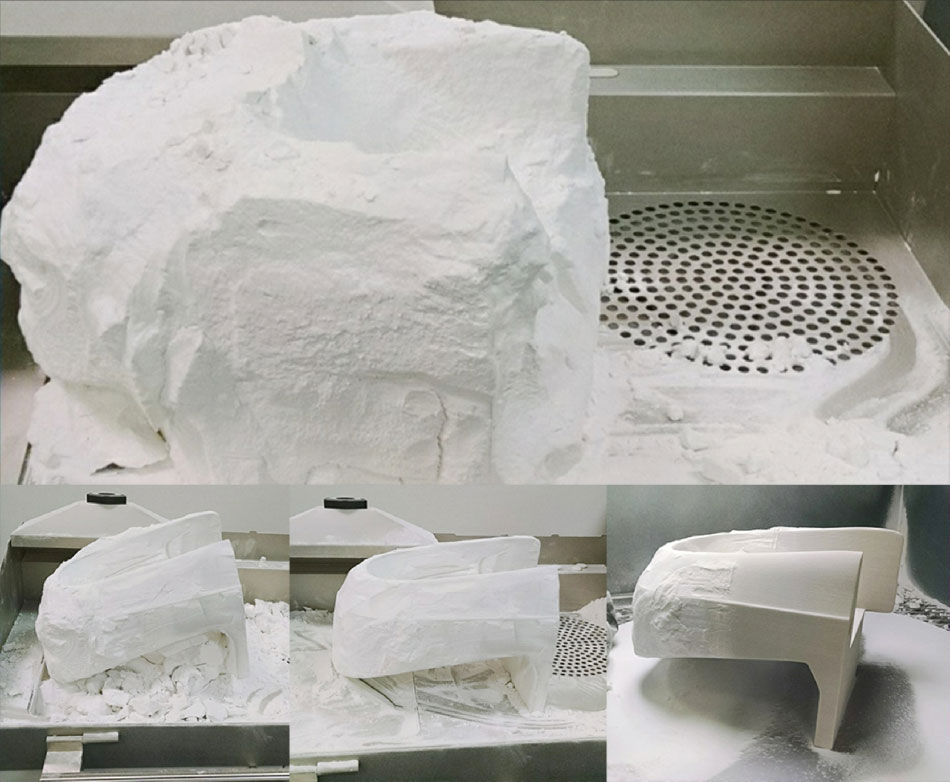 Parts were produced from CAD models using a modified additive manufacturing process called 'laser sintering.' A pair of CO2 lasers sintered cross sections of parts layer by layer, 0.15mm at a time. The 3D printed parts would be assembled together with the welded, bent and fabricated parts to become one 'looks like' prototype.
ASSEMBLY, PAINT – AND FIRST IMPRESSIONS
The Amanda Manufacturing team was tasked with getting the parts assembled and painted in time for SEMA. The project manager joked, "You can only rush the painters so much. You can't hurry the drying."
He was fully satisfied with the bumper. "The coolest part about it is the parts ARE fully manufacturable – it truly is a bolt on kit. You won't see a lot of that at SEMA. A lot of the vehicles are one-offs, specific for that vehicle. This can be taken off and fit to any other Jeep Wrangler; unbolt and bolt. There's not a whole lot to be done to make it ready for the aftermarket because we spent time engineering right the first time."
When a supplier stopped by to drop off the mirrors, he said "I LOVE THOSE DOORS!" They would hear that a lot in the months to come.
BUILDING A NAME IN THE OFF-ROAD AFTERMARKET
The entire story of concept development – from inspiration to prototyping – appeared in installments on the Amanda Products website. John Herrick, editor and publisher of CRAWL magazine – 'the most hard core off-road magazine in the world' – took note and told social media:
"Amanda Products has jumped into the offroad game with both feet. Check out the blog and, if you're into how businesses learn and grow, this is an interesting read in learning what people want and how to provide it while building a name in a new environment."
PRODUCTS THAT WERE RIPE FOR DISRUPTION HAVE BEEN ROCKED
The bumpers and doors were introduced at Amanda Products' booth at SEMA 2014. OE designers and engineers – the most discerning audience – stopped by to see the new designs and talk to the team. They were frequent visitors.
Deshler's commitment to growth has been proven in three significant new products for the off-road aftermarket. Amanda Manufacturing's dream of conceiving and producing off-road products has been recognized in award-winning SpeedHook™ tow hooks. And Amanda Products' bumper and door design capabilities have met with enthusiastic response.
This is only the beginning. Connect with Amanda Products to learn 'what's next' for their off-road aftermarket line.
Interested In Finding Out More?