Planning for Chaos: Successfully Navigating a Shipping Crisis
Three years of smooth sailing, threatened in an instant. In 2014, Deshler was successfully handling a substantial customer account, shipping large parts across the Pacific and throughout the United States. Trust was firmly established and business was growing.
However, when profound shipping delays hit America's West Coast ports late in the year, the customer's business was severely challenged.
Our customer was not alone facing the unfolding crisis. Container-laden ships bobbed at sea and languished in congested ports, from Long Beach to Seattle. One carrier even had its entire fleet anchored off of the West Coast at one point, fully shutting down its shipping service.
Unfortunately, many companies were unprepared for the severity of the shutdown. They scrambled as their shipping pipelines were blocked. Losses from ruined or absent goods, late orders, and expensive shipping alternatives quickly mounted. These costs could not be passed onto consumers. Many were insurmountable.
We knew that we must get the situation under control for our customer. If we did not, they might soon face plant shutdowns and staggering business losses.
Fortunately, weeks before the port slowdown accelerated, Deshler had already begun warning its customers of trouble ahead. Our staff had also made preparations behind the scenes, before the slowdown began. Identifying alternate ports and knowing how to maneuver within the structure of each were vital to this effort. Close attention to market and political forces, combined with decades of logistics experience, allowed us to plan effectively for what was coming.
Once the crisis hit, we called upon Deshler's tightly integrated executive team. They represented several diverse brands, from manufacturing and logistics to assembly and supply chain management. Working in concert, our affiliates immediately set in motion an aggressive plan to keep our customers' goods moving.
GS3 Global, Deshler's global collaborator, had won this particular company's business. The final customer, a major automaker, already knew GS3 was accomplished and value-conscious. A well-known leader in supply chain solutions, GS3 had experienced phenomenal growth, despite its founding in difficult economic times. As GS3's success accelerated, the company was named an MMSDC Minority Supplier of the Year in 2014 and an NMSDC Regional Supplier of the Year in 2015.
GS3 served as Deshler's direct connection to the customer. The company also helped coordinate the services of Deshler's affiliate companies to craft an integrated response to the slowdown. They professionally managed the supply chain, staying on top of necessary modifications to schedules and modes of transport.

Global Transportation Management (GTM), Deshler's multi-modal transportation leader and highly-experienced logistics provider, was the team's crucial logistics partner. GTM leaders combined their transport knowledge with Feblo's inventory monitoring and GS3 Global's supply chain expertise to craft individualized solutions for their customers.
GTM swiftly changed destinations, renegotiated shipping documents, monitored port traffic, formed shipment extraction teams, and arranged efficient transportation by rail and truck. Calling upon their global team of logistics partners, GTM staff were able to make quick paperwork and transportation changes that other companies were unable to handle.
GTM's targeted intervention, combined with careful diplomacy, often made the difference between goods rotting at sea or getting to their final destination on time, or close to it. Bills of lading had to be changed overseas, before shipments left, in order to alter their discharge at final ports. Releasing a container to a particular trucking company or rail carrier also required advanced planning to a minuscule degree. GTM did all of these things, and well.
Feblo International, Deshler's forecasting, production planning and warehousing expert, also played a crucial role in contingency planning. From the beginning, Feblo constantly monitored the customer's inventory levels against production shipping schedules. As conditions changed, the Feblo team measured the ways late deliveries would affect the final customer.
Armed with this information, Feblo staff would advise both customers and Deshler logistics partner GTM that finding alternate routes would be necessary. Parts needed to stay in motion and at speeds that would keep production lines from shutting down.
Although circumstances did demand a temporary switch to air freight in some cases, these additional costs were reduced because of Feblo's involvement. Advanced warning and early notification of customers, coupled with constant monitoring and forecasting paid off. Some customers even shipped extra parts earlier than originally planned, to buffer the effects of the shipping slowdown. This helped keep costs down, plants running, and customers happy.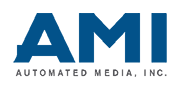 Along the way, Deshler's technology backbone, AMI, supplied innovative supply monitoring and tracking solutions that made these action plans possible. AMI's experience creating detailed recall monitoring programs for leading automakers was particularly valuable throughout this port crisis. The Deshler companies needed to know the exact location of individual parts, during all steps of the shipping process. This ensured smooth operation of their team-built transport modifications. AMI technologies were the worthy foundation for this effort.
As the team quickly put the solutions into practice, GS3 presented the solutions to the customer. They explained the new steps required to transport ocean freight from Point A to Point B. GTM continued its pinpoint monitoring and re-shuffling of modes of transport as needed. Feblo carefully monitored inventories as conditions shifted.
Success came quickly. The integrated Deshler plan, built on experience and cooperation, proved to be the correct approach for our customer.
Monitoring was constant and consumed the Deshler team. Was a shipment "hot"? Were transport details in hand before port arrival? Were port escorts who knew their trade in strategic positions? What was the state of rail? Of air freight? Were weather conditions changing? How about the state of port labor negotiations?
Simultaneously, the volume of shipments continued growing. The customer's targeted increase was intended to flood the supply chain with enough material to force needed goods through. Managing this shipment surge also required careful monitoring.
The Deshler team had to react, nimbly and without hesitation, to ever-shifting conditions. Sometimes rail transport made sense. Sometimes, truck transport was needed to lessen train bottlenecks. Unlike ordinary trucking assignments, these missions used Team Drivers who took turns driving to keep freight moving. Wasting time was not an option, as delays could be ruinous.
We even turned to air transport to avoid looming plant shutdowns. Our staff chartered DC-9 planes, filling them to the brim with customer parts and flying them all over the country. Fortunately, our planning and flexibility helped us arrive just in time, every time.
Getting goods where they needed to be, undamaged and as close to on-time as possible, was the goal. The Deshler approach, to offer alternative, modifiable modes of transport, with constant monitoring, targeted intervention, and creative management, was a solid solution and an easily quantifiable success story.
Deshler's innovative team solutions worked. While thousands of containers languished at sea, Deshler's customers' shipments remained in motion. Assembly lines at thirty automotive plants kept running and doors stayed open. Jobs were saved and customers' needs were met.
Even as we kept our customers' goods moving, the port crisis continued deepening for others. Container delays grew to a staggering level and congestion became unbearable. Truckers would wait for hours, days even, at ports, sometimes departing without their scheduled loads.
For some companies, the ongoing damage was so severe that recovery wouldn't be possible.
As we helped our customer escape the worst, our unique response attracted attention. Word of our success spread in the automotive community. Before long, we were shipping parts for seven separate automakers.
Soon, other companies struggling with their supply chains began reaching out to Deshler. They wanted to know what we had we done differently. Some even began emulating our approach.
The Deshler Group is a unified team. We pool resources and ideas and we work without barriers to craft ingenious, cross-company solutions. We anticipate change and and rapidly respond to problems.
Though our response to the port crisis was unique in our industry, it's wasn't unusual for us. It's just how we operate, every day. We create effective, team-based solutions for all of our customers.
Want to learn how we can help your business grow? Navigate supply chain disruptions? Develop a forward-thinking logistics strategy? Contact us today and we'll build a plan together.
Interested In Finding Out More?